Finals are done and my bags are packed! If you're reading this, I'm either en route to or realxing at my dear friend Cait's beautiful house in the countryside of Connecticuit. We're up and at 'em early tomorrow morning. Why, you ask?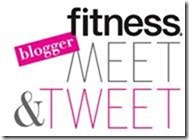 A couple of months ago, through FitFluential, I was invited to attend the FITNESS Magazine Blogger Meet & Tweet in New York City! I'm over-the-moon excited; the agenda is jam-packed with fitness and nutrition related information sessions, and a pop up workout with KiwiSweat. I am particularly excited to hear four awesome ladies speak: Kelly Olexa (CEO of FitFluential), Julie Fagan (author of Peanut Butter Fingers), Tina Haupert (author of Carrots 'n' Cake), and Carla Birnberg (author of MizFit Online). I truly admire these women and am so excited to meet them and learn from their blogging success stories. Cait and I will be joined by a slew of fellow FitFluential Ambassadors too – I can't wait to meet them all in person!
After the FITNESS event, I will be jet-setting to Times Square to meet up with my favorite trainers on the planet! You may have heard of them?
As fate would have it, Karena and Katrina are going to have a meet and greet at the Oakley store in the heart of Times Square! I'm so pumped to meet these ladies! It's going to be pretty epic. I'm kind of peeing puddles of joy. 
Before packing (yep, still hate it), I made myself a pretty glorious lunch. It was so simple but really hit the spot.
To start, I massaged a bunch of kale in a large bowl with balsamic vinegar, olive oil, spicy mustard, and nutritional yeast. Then, I poured the greens into a bowl and topped them with cherry tomatoes, carrots, and cashews. I served the salad with half of a sweet potato, smothered in hummus. Massaging the kale really makes a difference when you're preparing a salad. The kale soaks everything up so well and has such a beautiful texture, especially with the soaked nutritional yeast.
Have a beautiful night!
Stay lovely,
Heather