Have I told you lately that I loved you? Thank you so much for all of the support, love, and encouragement in response to yesterday's post. You lift me up every day but I really needed it yesterday and, just like that, you came through! We all need some extra encouragement some days, and I am so blessed to be able to count on you as virtual shoulders to lean on.
By the time I reached the end of this post, I quickly realized this (rather organically) turned into a What I Ate Wednesday post, which I've never done before. Hooray to that! Jenn is such a sweetheart and I'm happy to join in on the fun this week!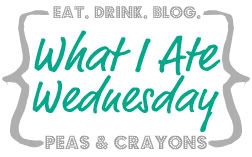 Today's theme of eats is inspired by some uber talented women. You'll see in a bit!
Workout
Thankfully, last night's sleep was much better than Monday night's. After eight glorious hours of shut eye, I woke up energized and refreshed. I was "me" again! Today's workout came courtesy of three amazing ladies. First, I tackled the Surfer Girl workout from the Tone It Up Beach Babe DVD, which got my entire body sweating and my muscles burning in the best of ways. Afterwards, I completed one of my all-time favorite ab routines: Amanda Russell's 6 Minute Abs of Steel workout. I love this so much because it's short yet incredibly effective. If you go slowly and really allow yourself to focus on each move, your little abbies are screaming for mercy by the end!
After a good stretch, I traipsed upstairs to shower my sweaty self. I was about to jump in the shower when I noticed something – it looked like a monsoon had hit! It was pouring buckets outside and looked like it was 3:00 or 4:00 p.m. outside. Not even an hour later, the sun had inched its way out of the sky, shedding its beautiful rays ,where it still remains as I type. Welcome to New England, folks.
Breakfast
Naturally, post-workout fuel was consumed in protein pudding oats form. My oats waited for me while I munched on fresh mango slices, my favorite fruit this week! 
I also had a few buddies nearby. They supply the coffee and make me smile.
Oh, owls, how I love thee.
Snack
I worked form home today, so capturing all of my eats was a simple task. After a few hours of researching and writing, I broke for a snack. I made my easy-peasy zesty nacho sauce (2 Tbsp. nutritional yeast + 2 Tbsp. peach salsa) and sliced up an avocado before placing both ingredients on two collard leaves for a fresh and satisfying snack.
Can I hear an "Amen?"
Lunch
While preparing lunch, I got a Skype phone call from some young fellow.
What a cooincidence! Matty was just sitting down to enjoy a gyro while I was prepping my afternoon meal! Isn't he cute when he eats? I sincerely hope we're not broken up by the next post. Please note my evil smile.
Anyways, back to lunch. I made the Roasted Garlic & Rosemary Brussels sprouts from the new edition of the Tone It Up nutrition plan and added eggplant and hemp seeds to the mix for extra flare and flavor. While my veggies roasted, I sauteed some tempeh.
The warm and comforting scent of rosemary filled my house and I instantly thought of Christmas. Winning.  This meal totally hit the spot. The Brussels sprouts and eggplant were delicious in the most simple of ways, as was my tempeh – once dipped in organic ketchup, of course.
Work was the name of the game today. I really needed to get caught up on my writing, since Cait is spening the night tomorrow and we're leaving for the Healthy Living Summit on Friday (yay!!!). There is so much to look forward to! It's possible that I'll have a love-induced heart attack from seeing all of the blog friends I've yet to meet in person!
Snack
It happened. I finally made Lori and Michelle's vegan chia seed protein muffin!
Late this afternoon, I had a hankering for something hearty. The twins' muffin popped into my head because I was stalking their blog it had been on my "recipes to make" list for the past few weeks. It did not disappoint! I added some peanut frosting (2 Tbsp. each of peanut flour and unsweetend almond milk) on top and a sprinkle of shredded coconut. Just like that, my foodie prayers were answered. Thanks, ladies! You're brilliant.
Alright, I'm off to wrap up my writing for the day.
Stay lovely,
Heather
Question of the Day: What is the best thing you ate today?