Happy Monday, plant lovers! Guess what? In approximately 48 hours, this girl will be on a plane to Las Vegas! Yep – I've been holding out on telling you until the excitement started running through my veins. I was so excited about it last night that I had a hard time falling asleep! I'll be staying there for five glorious days with two of my girlfriends. I CAN'T WAIT!
Okay, off of that tangent and onto the topic of today's post: on-the-go snacks!
I live a pretty on-the-go lifestyle, with holding down two jobs and blogging. I'm not complaining – I love my life – and feel so blessed to be applying what I learned as a nutrition major to my daily life! That being said, planning is a big part of my on-the-go lifestyle. I plan my meals and snacks the night beforehand, so that I'm all prepped for the next day! It's worth it to me because I feel strong, energized, and accomplished every day.
Here are my favorite on-the-go snacks:
Nuts & Homemade Trail Mix
I crave nuts almost daily. It makes me sad to think I was once afraid of them! I purchase a bunch of bags of raw nuts from Trader Joe's and combine different varieties. The one above has cashews, pistachios, almonds, and walnuts. I also love to add some Brazil nuts! I've also been adding Attune Foods' Erewhon Buckwheat & Hemp cereal for some extra crunch and nutrients!
Green Juices & Smoothies
I like to bring these to work with me a few times a week for a mid-morning or afternoon pick-me-up. If I could afford to enjoy Wildflour's green juice every day, it would happen every day. But my wallet told me it's not a good idea. Hopefully, the Universe will bless me with a Vitamix sometime in the future.
Making my smoothies in my small food processor just isn't the same!
Pudding
This needs no further elaboration … besides the fact that they travel well in Tupperware containers! End scene.
Roasted Veggie #POWERsnacks!
Who said we can't enjoy roasted veggies for a snack? That's right – no one.
Bars
…and my personal favorite…
barre!!!
I've professed my undying love for barre back in June, when I hosted a review and giveaway, thanks to their amazing team. Kasey actually knows Julia, one of the co-creators of barre, personally! The two of them live in Pennsylvania and are just a short drive from one another. What a small world, huh? All three of the flavors are good but the Ballerina Spirulina is, hands down, my favorite. It's so satisfying and delicious. These bars are of the highest quality and are absolutely packed with nutrition and love. Kasey and I can personally attest to this!
So can our #plantPOWER girl, Brittany, rocking her Ballerina Spirulina barre!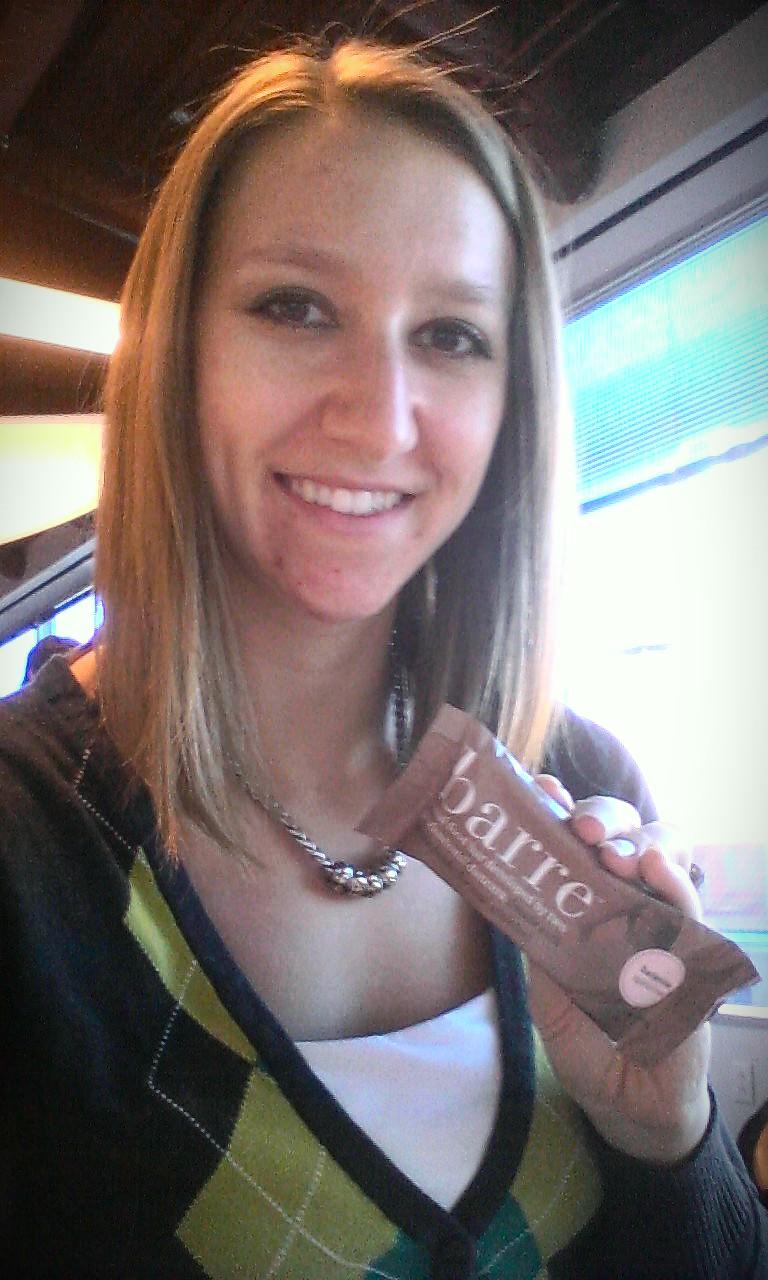 Lucky for you, Julia, Aaron and the rest of the barre team are gifting TWO #plantPOWER challenge participants each of the three barre flavor varieties!
Tweet  and/or Instagram a picture of your favorite #onthego #plantPOWER meal or snack with "I am entering to win the #plantPOWER @RealFoodBarre giveaway via @powercakes & @theloveofkale #FitFluential"

Leave a comment telling us what flavor you would like to try!
Don't forget all winners will be announced at the end of the month!
Stay lovely,
Heather
P.S. – Here is a round-up of all of the giveaway we have hosted so far this month: