Before we get to today's green fun, let's highlight a couple of "F" recipes from yesterday, shall we?
Sloane made an incredible #plantPOWER flat-bread pizza!
From Sloane herself: "F is for flatout pizza! On top went Powercakes' tahini nooch sauce, spinach, white white sauteed soy and mushrooms, avocado, and vegan mozzarella! Orange on the side!"
Steph made a beautiful "fresh and fiery" #plantPOWER bowl!
"Fresh & fiery #plantPOWERbowl filled with raw spinach, arugula, cherry tomoatoes, yellow bell peppers, green onions, mushrooms, roasted eggplants, spaghetti squash topped with my Cheesy Garlic Sauce and sriracha to fire it up!"
Such beautiful meals, ladies! Love it. Thank you for spreading the #plantPOWER love and inspiring all of us!

____________________________________________________________________________________________________________________________________
Green, green green! I love green food. Can you guess what my favorite green food is? Har har har.
Greens really do have the most nutrition. They're alkaline-forming, meaning they help keep our pH levels at a happy 7.4, and they're chock-full of vitamins, nutrients, antioxidants, fiber, and protein! Cue the happy dance for our insides.
Today, we have a beautiful green drink from Monica, a fitness trainer and healthy foods chef! Monica's work has been featured in SHAPE and Oxygen, and she's also a FitFluential ambassador. Like us, she loves to get her green on too. 
Exhibit A:

"Hi, I'm Monica Nelson!  I am a healthy foods chef, trainer and fitness expert, competitive athlete and sports model. I love helping people look and feel great at the same time. I am also a proud FitFluential Ambassador and a big part of the food and fitness community, Nice to meet you!"
Monica has created a signature green drink that she swears by. We swear by it too. It's amazing not only for your bod but for your taste buds – and it's full of ingredients most of us already have on-hand!

Green Moni Drink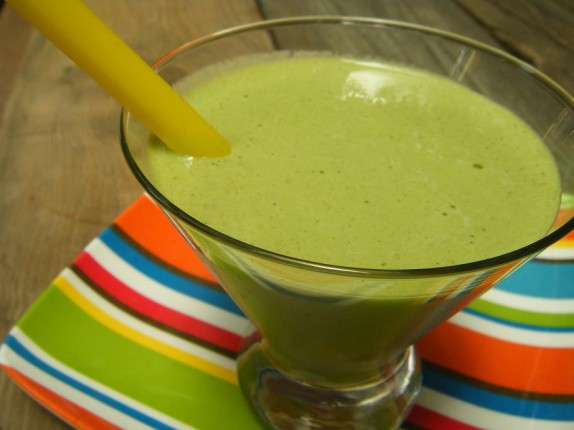 Servings
Serves 1 (2 cups)
Ingredients
1 cup almond milk, or milk of choice
1 tbsp chia seeds, or flax seed is great too
1 scoop Vanilla protein powder, I use Sun Warrior
1 tsp of Maca Powder, find at Whole Foods  or online
1 tbsp nut butter, peanut butter or almond
1/2 cup of cucumbers, sliced
2-3 handfuls organic spinach, sometimes I use Kale too
1 ripe banana, peeled and I recommend frozen
a few dashes of cinnamon, optional
1 packet of Stevia, optional

3-5 Ice cubes

other mix-in options: blueberries, strawberries, kiwis, Amazing Grass Green Super Food Drink. Knock yourself out and get creative!
Directions
So I recommend mixing this drink in the order I listed, so you can enjoy it just right! A Vitamix is best, but like I mentioned, a standard blender is fine too.

Starting with the liquid, add in 1 cup of milk of your choice. Now add in the chia,(or flax), 1 scoop of protein powder, and nut butter. Next, add in the spinach (or kale), cucumber, followed by the frozen banana on top, and if using cinnamon and stevia, add now.

Blend until smooth. Add in your ice cubes and blend some more. Enjoy!
Thanks for the recipe, Monica! We're so grateful to have you on-board the #plantPOWER train. Make sure you guys check out her site. You can like her Facebook and follow her Twitter and Instagram for lots of love and inspiration!
_______________________________________________________________________________________________________________________________________
We are super excited to bring yet another #plantPOWER giveaway to you. Yes,  babes, that's THREE giveaways in a week! In honor for green day, our friends at Nutrex-Hawaii are gifting you some spirulina for an awesome giveaway. All of the details are at Kasey's blog, so make sure you go over there to check 'em out and enter the giveaway!
Big thank you to all of our #plantPOWER sponsors. So much love to all of you!
You have until February 26, 5:00 p.m. EST, to enter all giveaways! If you missed the entries, you can enter the Almond Breeze giveaway here and the Brad's Raw Foods giveaway below:
Stay lovely,
Heather
P.S. – Keep hashtagging #jadorelavie! It's not gone! While #plantPOWER is going on, keep holding tight to your #jadorelavie moments. Keep sharing them with everyone and spreading the love inside of you. As Buddha said, "All we are is a result of what we have thought." If we're thinking with love, we're going to experience more love and receive more love in return. With every photo you share with #jadorelavie, you're helping to spread that message and inspire others to put on their miracle goggles!