Whenever Matty and I see little kids, we smile and look at them lovingly and longingly. I think we've both really fallen in love with just how care-free toddlers, preschoolers, and elementary school-aged children are. They run when they feel like it, laugh at whatever they think is funny without a care in the world, and, if their parents allow them to, wear clothes they want to wear. All because they feel like it, and all because it feels right in the moment. 
We can really learn a thing or two from them, eh?
I am a child too. In more ways than one.
1.) I take celebratory Myspace-style selfies with my friends – and love every second of it.
2.) I eat snacks out of my mini Snow White bowl because it's pretty and I love Disney movies.
Mid-morning snack of leftover Prana parfait, topped with crushed walnuts and chia seeds for omega 3′s and an added crunch!
3.) When reading a book, I prefer reading along while someone else reads to me, as opposed to actually doing the reading myself. I'm not lazy – just child-like.
We are both loving An Object of Beauty. Steve Martin is a brilliant writer and uses lots of art-specific words that we don't always understand. That's when Mr. Thesaurus come in handy! The book itself is intriguing and the characters are so interesting. Every time we read it (okay, every time Matty reads it and I silently follow along), we never want to stop.
4.) Matty and I also can't seem to stop quoting Finding Nemo. Specifically, "He touched the butt!"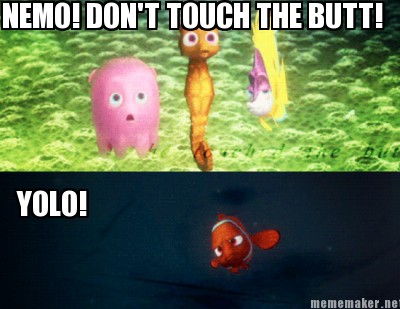 5.) Have you heard of Viva Forever? Can we say nostalgia?! Can we say road trip to London? Can we say, "No, Heather, you can't afford that?" Womp womp.
6.) I like to pair sparkles and feathers. Although, I suppose Daisy Buchanan would say the same, and she wasn't a child.
7.) I'm becoming more care-free by the day – and loving it. Really embracing "J'adore la vie" is a beautiful thing. To coincide with this theme, I coined a phrase that kind of sums it all up.
"Dream about it. Reach for it. Grab it. Hold onto it. Steer it. Live it. Love it. Repeat." #jadorelavie
That's it! Seven is my favorite number, so I'm going to pull the plug there. Are you celebrating your inner kiddie pool-loving self today? I'm off to apply for some freelance jobs (!!!). Have a beautiful, beautiful day.
Stay lovely,
Heather
P.S. – The Fashion page was updated today!